From August 20, 2019 to January 6, 2020
Rex de Casas Ibañez Theater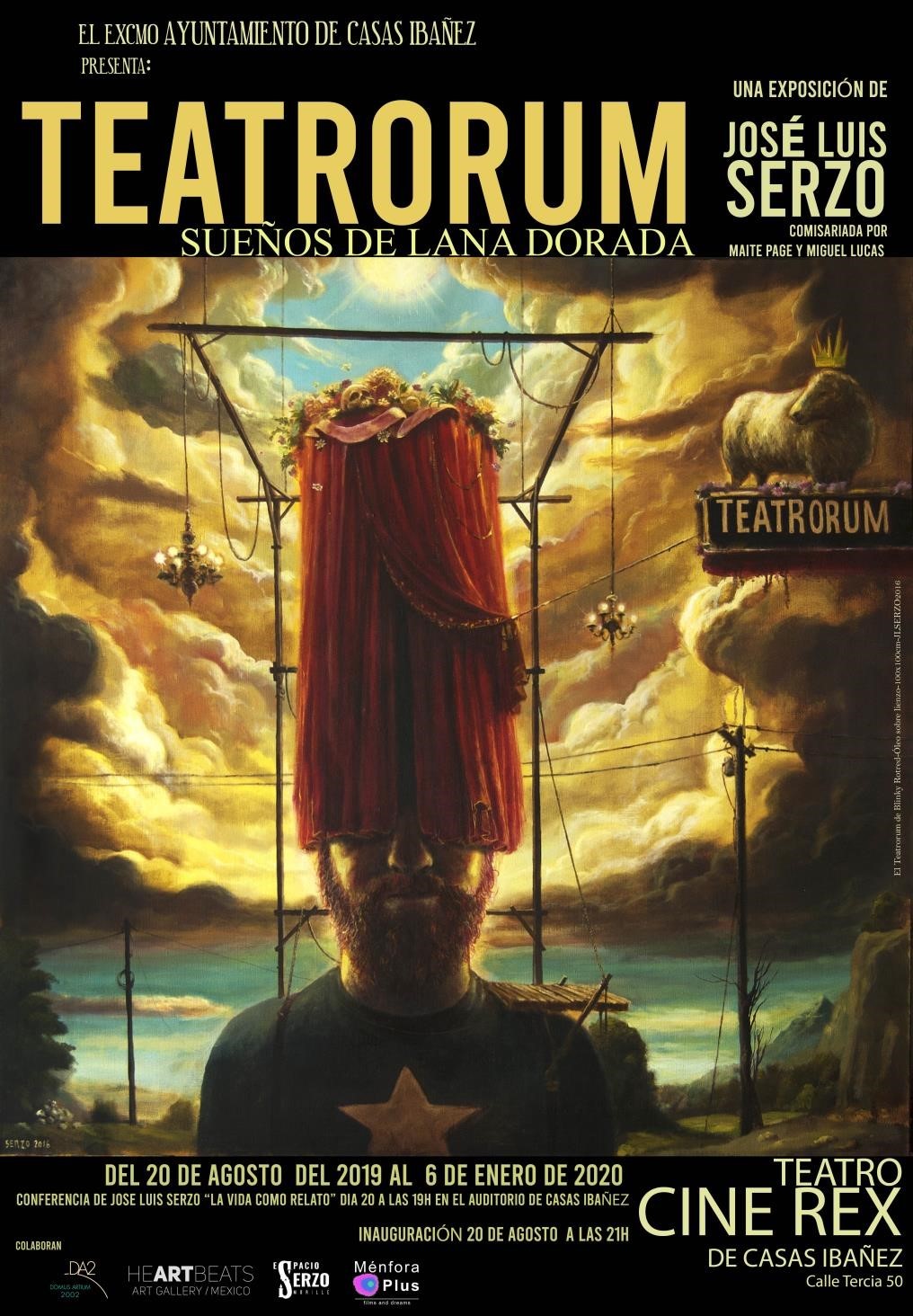 The artist José Luis SERZO, born in Casas Ibáñez in 1977 (Albacete) and living in Madrid since 1998, will exhibit at the TEATRO CINE REX in La Mancha
one of his most significant series, TEATRORUM- DREAMS OF GOLDEN WOOL
Taking advantage of the celebration of the patron saint's day, the City Council of Casas Ibañez wanted, with this exhibition, to recognize the career of the local artist who began his creative journey through these lands and are still a source of inspiration in their work. The opening ceremony will take place on August 20 at 21 hours in the same Cinema Rex, located in Tercia Street, number 50 and will be preceded by a lecture by Serzo on "Life as a story" given in the Auditorium at 19 hours.
Serzo's "THEATRORUM" is a plastic icon that is repeated in his work in a serial way as a kind of, if we pay attention to the etymology, "space to contemplate" what happens in life. In the case of the exhibition presented, his work is much more singular and intimate, since it will take place on the same stage where he was inspired to create the "TEATRORUM", that is, the same Teatro Cine Rex. In this place, he tells us, he spent a lot of time from his childhood, behind the scenes -as he likes to say- accompanying his mother in her work as director and animator of the local theatre. The version of this TEATRORUM within the series DREAMS OF GOLDEN WOOL (or The
Dream of the King (of the Republic)), had a first performance in 2016 at the Centro de Arte DOMUS ARTIUM DA2 in Salamanca and another at the Palacio Provincial de
Cadiz Provincial Council. For this occasion, the mythical cinema of Casas Ibáñez will be used and adapted with an installation that will be accompanied by a selection of its most significant works such as El sueño del rey (de la República), El feliz expolio, El corral del sueño del Rey, Finis gloriae mundi, El Teatrorum de Blinky Retrod, among many others. As we are accustomed to, in addition to his paintings and drawings, the exhibition consists of his sculptural assemblages, artifacts, videos or tableaux vivants.
A work that has been curated by Maite Page and Miguel Lucas.
Much of the criticism of contemporary art has coincided in describing
SERZO as a "rara avis" who has made art/story his sign of identity. Despite his youth, he has exhibited in the most avant-garde artistic circuits of Spain, Europe, America and Asia, and is considered a "total artist" with a very outstanding creative work among the artists of his generation. In his work, academic virtuosity – dominating drawing, painting and sculpture with great skill and oficity – coexists with innovation with his hybrid theatrical, cinematographic and poetic installations. His stories are always based on a kind of catharsis expressed by his characters in a "liminal" state. He is still moved, in his words, by "people who make themselves, who break the mould, their own and taxes. I believe in a global change from the individual. A complete change of paradigm, through the subtle and intimate".
The people of Casas Ibáñez are proud that since that first exhibition held in 1995/6, which was entitled Esclavo de la Confusión y el Desapoño (Slave of Confusion and Disillusionment) and mounted in the Caja Rural, even their modern stagings at the Teatrorum have the imprint of the town. Furthermore, it is celebrated that the Rex cinema, a replica of the Gran Vía in Madrid in the 1950s, with its large blue curtains, canteen, box office, henhouse and the rest of the local film industry, is these days the venue for this event/homage by Serzo to his people and vice versa.
The Town Hall of Casas Ibáñez, with initiatives of this type, wants to bet on cultural heritage as a factor of development and is aware that the town and the region needs to value the territory from all areas. Both natural, now awarded with the Biosphere Reserve for the Sickles of the River Cabriel, and its economic history where the viticulture and oenology and the creative genius of its people stand out as the case of José Luis SERZO are a good starting point to respond to the new needs. Investing in art and culture is, even from a budgetary point of view, more profitable than other apparently more productive expenses. Casas Ibáñez is in need of creating and activating initiatives to maintain a declining economy and demographics. An art centre that had José Luis Serzo as its central figure and, at the same time, as the driving force behind other possible cultural spaces in the town could help in the near future to turn Casas Ibáñez into a regional and, why not, national exhibition reference.
José Luís Serzo (Albacete 1977) is a multidisciplinary artist known for his major exhibitions-narratives. Post Show, El fantástico vuelo del hombre cometa, Thewelcome, Los sueños de I Ming or Los Señores del Bosque are some of his series, in which through painting, drawing, photography, objects, installation, video and literature as a thread, he tells stories that are somewhat dreamlike and with an optimistic transcendence. Serzo works in favour of a new paradigm where beauty, harmony and consciousness have their advent.
His work has been shown in exhibitions in museums and art centres such as: Casal Solleric in Palma de Mallorca, Museo ABCin Madrid, DOMUS ARTIUM DA2 Art Center ofSalamanca, BARJOLAMUSEUM in Gijón, MACUF(A Coruña), Centro de Arte Contemporaneo LA CONSERVERA(Murcia), Kunstbunker Tumulkain Munich,National Museum of Decorative Arts (Madrid), CEART (Fuenlabrada), Centro de Cultura Contemporánea Las Cigarreras(Alicante), Freires Museumof Berlin, Albacete Museum, SangSang Madang Art Center (Seoul), Cervantes Institute of Chicago, Adra Museum (Almeria), Botin Foundation(Santander), Young Art Center of the Community of Madrid, Cervantes Institute (Madrid, Prague, Berlin, Krakow, Paris, etc). International Center of Contemporary Culture of San Sebastian, MATADEROMadrid, Kursaal Kutxaespacio del arte (San Sebastian), etc..