17 January to 21 March 2019
Francisco de Goya UNED Exhibition Hall – Barbastro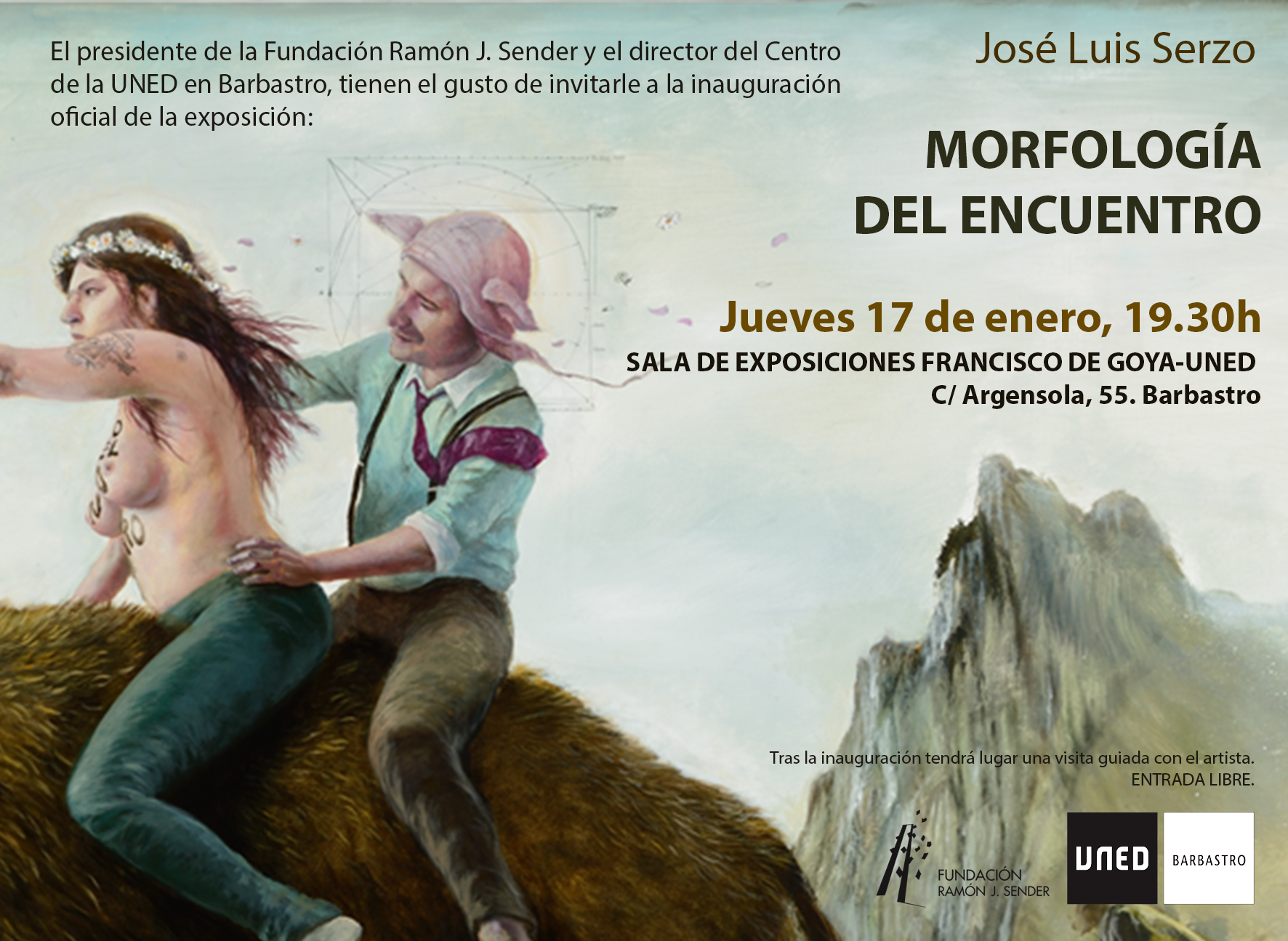 Morphology of the encounter of José Luis Serzo
From 17 January to 21 March
Monday to Friday from 18 to 20h.
Saturdays from 7pm to 9pm.
Holidays closed
Francisco de Goya UNED Exhibition Hall – Barbastro
Free Entrance
The series 'Morphology of Encounter' tells the story of Michael Burton Junior, a senior finance executive inspired by the Wall Street films of the 80s, who is led to embark on a path of initiation in the search, perhaps, for the meaning of his life. The archetype of the character has managed to touch his professional ceiling, but apparently also his spiritual background. He believes that he has everything, money, power, women, as well as an incessant and corrosive dissatisfaction that gradually devours his whole being. This is how he has realized that the material has not managed to cover up the existential crack that he has been dragging along since his childhood and, before falling into complete madness, he will be willing to dive in and accept his shadow to undertake a real, as well as a symbolic-spiritual journey, for each of his fears and prejudices.
The Exhibition Hall of the Ramón J. Sender Foundation at the UNED Center in Barbastro exhibits the recent work of artist José Luis Serzo from January to March.
More than two decades ago, an exhibition project was born with enthusiasm and vocation of continuity with the double objective of supporting artistic creation and disseminating contemporary art.
Many artists have communicated in one way or another in this space through plastic creation. The room project has facilitated the exhibition of the work of emerging artists with proven careers on a national and international level. From the Exhibition Hall we work to build bridges between creators and visitors, without leaving aside the debate and discussion on contemporary artistic practices. A precise and determined path to contribute to the cultural, educational and scientific development of our environment.
"Morphology of the encounter" by José Luis Serzo, is the artist's first individual exhibition in Aragon. The exhibition is conceived as a great story with a theatrical atmosphere, in which his characters represent archetypes that run between layers of interpretation under the meticulous and realistic work of their figuration. An exhibition to enjoy and reflect on the meaning of life from the initiatory journey of its protagonist.
Clara Abós