Tarazona de la Mancha Carnival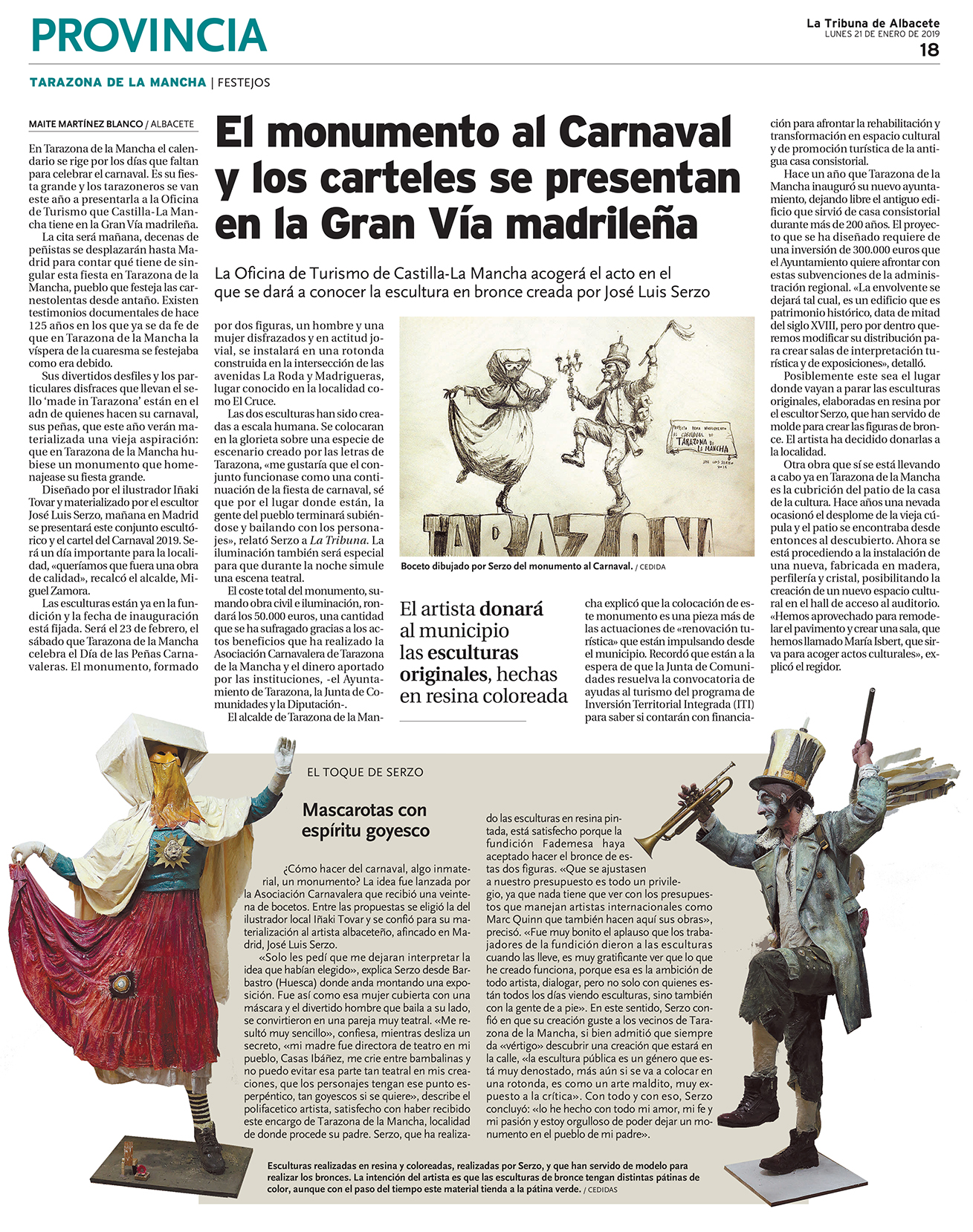 Jose Luis Serzo, in charge of making the monument to the "Tarazona de la Mancha Carnival".
"ABC Castilla la Mancha"
Political unanimity to make the Tarazona Carnival of National Interest
On 23 February a monument dedicated to this festival will be inaugurated, the work of José Luis Serzo, in the roundabout between La Roda and Madrigueras avenues. The Castilla-La Mancha Regional Government, the Albacete Provincial Council, the Town Hall and the Carnival Association staged their "joint work" this Tuesday to ensure that the Tarazona Carnival is declared a Festival of National Tourist Interest.
In relation to the future "Monument in homage to the Carnival", made by the artist José Luis Serzo, the delegate of the Meeting advanced that the inauguration will be on February 23, coinciding with the Day of the Rocks. It is an icon formed by a man and a woman in disguise, which will be installed in the roundabout built at the intersection of La Roda and Madrigueras avenues.
"La Cerca.com"
The Carnival of Tarazona de la Mancha conquers Madrid with the support of the Diputación de Albacete and the JCCM
Tarazona de la Mancha is also on the verge of starting a Carnival 2019 which will be welcomed with a monument of its own to be inaugurated on 23 February, and for whose creation the support of the Provincial Council, publicly expressed through its president, Santiago Cabañero, and the Board of Communities itself, has been decisive. A work created by José Luis Serzo that the author has been in charge of presenting this Tuesday in Madrid.