Gallery Rafael Pérez Hernando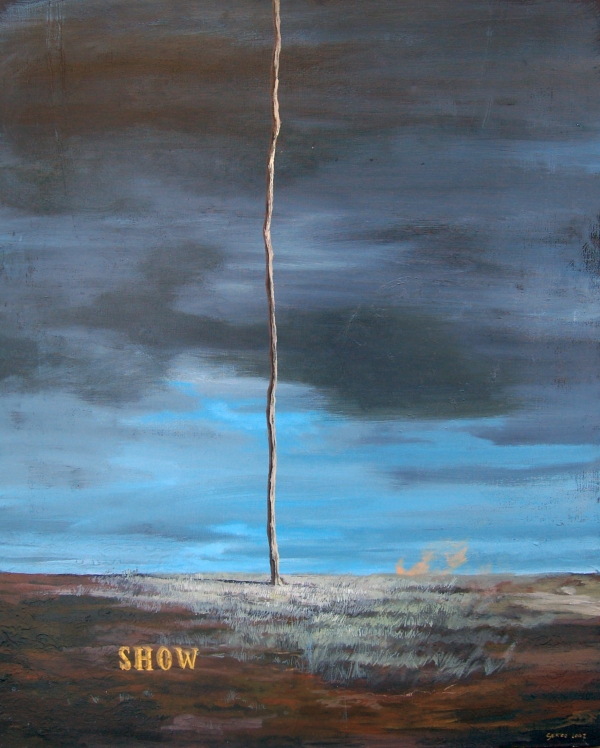 Commission: Fernando Castro Flórez.
Artists: Javier Calleja, Regina José Galindo, Carlos León, Bernardí Roig, Avelino Sala, Domingo Sánchez Blanco, José Luis Serzo, Baltazar Torres and Filippos Tsitsopoulos.
That saint for whom the earth is never enough is transformed into a stylite, he climbs to the top of a column and offers himself, in an ascetic experience, to an ascending dimension beyond all understanding, his disaffection functioning as a mirror of artistic behaviour. Let's remember the disproportion of San Simeon Stylite the Elder who, after leaving a monastery near Antioquia, resided on a small platform at the top of a stone pillar, only to later abandon that structure and live on ever higher pillars, the last of which, from which he did not get off during the final thirty years of his life, is said to have been over eighteen meters high. In Buñuel Simón's prodigious film of the desert, the anchorite stands at the top of the column, shaking like a candle flame and his defecations dripping with melting wax, enduring the harshness of the desert, preaching almost without hope. The desert is the place of temptation; there Jesus was taken by the devil who, after forty days of fasting, when he was finally hungry, asked him as proof of his power to turn stones into bread. Some artists know that nihilistic curse, the one heard by those who have a desert within them, those who are not guided by mirages, but who risk everything and find themselves in the strange, like in that column that could turn the stylite into something similar even an anarchist or, to use other terms, an anti-social. What drives this delirium is the will to achieve perfection, that's why the stylite in the middle of his sufferings is calm, making his loneliness a luxury. Paul Virilio evoked, commenting on a sports-freak action (a canoe trip across the oceans in defiance of death), the old Stylites "who, betting on the salvation of their souls, settled between Earth and heaven, at the top of any column or portico of a ruined temple, from where they contemplated the agony of an ancient world in decomposition".
The exhibition Estilitas (curated by Fernando Castro Flórez) brings together a series of artists who have meditated on that "solitary condition", that is, who faced the "desert" of nihilism to continue in spite of everything. An intervention by Domingo Sánchez Blanco in the Alcobendas public art project ten years ago serves as a "pretext" for this collective exhibition which, to a large extent, brings together artists who have established special relationships of dialogue. Bernardí Roig has carried out actions in the desert, explicitly citing Buñuel Simón del desierto's film, which was also the element re-created in Domingo Sánchez Blanco's columns. Regina José Galindo, in her action Tierra (2013), remains naked while an excavator shovel leaves her, literally, isolated. A series of paintings 2 and drawings from her Post-Show series have been selected by artist José Luis Serzo as elements of criticism of the (essentially banal) arrogance of show business culture. A "demonstrator" by Avelino Sala is presented, perched on a series of books painted in black as an emblem of the time of indignation. Filippos Tsitsopoulos' "masks" may have to do with the metamorphosis of a subject trying to deal with traumas or even elaborate on mourning. A unique video installation by Carlos Leon in which he appropriates a "bufo" passage from the end of Visconti's Death in Venice, together with a sculptural assemblage, transmits an aesthetic experience of resistance that does not derive from the pamphlet. The Portuguese artist Baltazar Torres has created a sculpture specifically for the exhibition in which he "materializes" the "stylite" as a subject (self-portrait) reduced to the condition of a skeleton. At the entrance to the exhibition some drawings by Javier Calleja propose, with a singular sense of humour, a "last meditation" that leads to suicide or, perhaps, to the "voracious" activity of the gallery owner. Estilitas is an exhibition specifically designed for the Rafael Pérez Hernando gallery, in which, through the works of renowned artists (paintings, photographs, drawings, installations and videos), a reflection on the condition of the contemporary subject is posed. The awareness that "time is unhinged" leads us to take up again the figure of the individual who climbs to the top of a column and from there launches his apocalyptic discourses. We know, of course, that only the worst happens and, perhaps, the task of art is to give an account of what is happening (to us). This collective of artists who have made the "crossing of the desert" does not want to transmit anything other than a crazy joviality or, at least, overflow the nihilism with an untimely behavior.
Fernando Castro Flórez